World Class Venue with Neighborhood Feel
The Astoria Armory has hosted some of biggest names in entertainment since it was built in 1941. Originally used mainly as a USO venue, it has seen a diversity of performance from Bob Hope to Richard Nixon to Buffalo Springfield!
Now, the Armory is on it's way back to its former glory and beyond! It already hosts many local events and community services. And with the ongoing restoration of this historic venue, we are looking forward to presenting world-class rock concerts and trade shows.
So keep your eyes on us! You can find all of our upcoming events on our Calendar, and get periodic newsletters by joining our Armory mailing list. And be sure to like us on Facebook.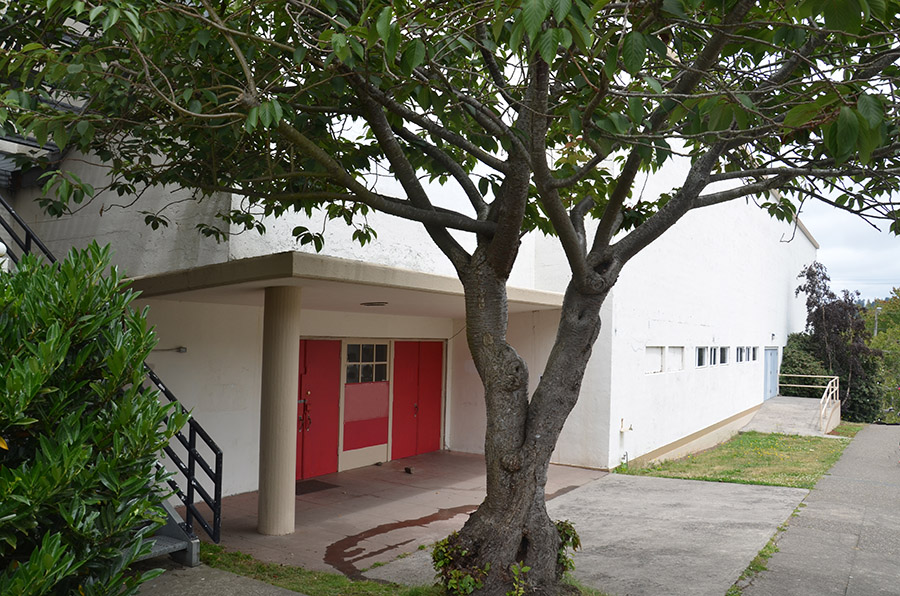 Bringing Back and Astoria Legend

The Friends of the Astoria Armory Board was formed in summer 2014 for the purpose of restoring the Astoria Armory so that it can become the largest venue in Astoria for conventions, concerts, as well as recreation and sporting activities. The Board took possession of the building in June 2014 from the City of Astoria. 30 volunteers were there the first morning to start on the multiple projects ahead. By the next morning, they had cleaned and prepped the building enough to let the Astoria Shanghaied Roller Dolls into the building to practice. To date, the volunteer team has torn down walls, repainted, opened a stairwell, built a concession stand and a skate rental nook, and has brought the Armory up to fire code. Several large projects, however, remain unfinished that would allow us to hold year-round events. After these projects are completed, the armory will be able to host events that will bring in monies from ticket sales that will pay off the mortgage, and complete projects that will fully upgrade the building.

The restoration of the Astoria Armory will open many opportunities for year-round youth and family activities that are still needed in our community. Cold and rainy weather that can last for six months shuts downs many activities and an indoor venue for soccer, volleyball and convention activates will become available. Varied groups have already used the Armory for events and projects. Some of these include its use at no charge by the Oregon State Police to conduct physical agility training for officers, Hispanic community events including a quinceañera and dance, and the 30th annual Monster Bash held every Halloween as a safe and fun alternative to trick or treating sponsored by the City of Astoria and the Astoria-Warrenton Chamber of Commerce. A symphony concert has been held at the Armory and a second one is planned. Currently, every Friday evening the Armory hosts Family Skate Night, charging only $3.00 per person, which has become so popular that families are asking that this event be held more than one

night a week. The recently-held Mayor's Ball raised $10,000 to support operations at the Armory. The Medical Teams International dental van used the facility recently to provide free emergency dental care for uninsured people suffering from pain. We believe, based on enthusiastic use by varied groups in the last five months that all demographics represented in our community will benefit from the restoration of the Armory to full capacity.

The Astoria Armory is a unique, essentially sound, structure right in the heart of Astoria. This building holds enormous potential to house recreational and other cultural and sporting events. Repairing this structure to full capacity will benefit the residents of our area in many ways, particularly with the provision of a year-round venue in a stormy and rainy climate. The roof is a Lamella design, unique because of the geometry involved and the amount of work required to construct. This roof is great for acoustics and allows a tall ceiling and a "clear span" area meaning that there are no support posts in the middle of the floor and no support beams traversing the air-space above the gym floor, which is important for spectators at any event, and athletes playing basketball.

We believe the restoration of the Armory will provide sport and recreation activities that will provide significant alternatives to unhealthy behaviors and improve the quality of life in our community. Combined with the potential economic contributions a restored event and sporting center will provide to an area heavily reliant on tourism, we believe the restoration of the Armory will have a substantial positive impact on our entire community.

Our goal is to raise funds to fully restore the Armory so that event revenue will support further renovation projects and sustain the maintenance and operation of the building. We want to see the space used as a convention center that brings large events to Astoria which support local businesses and workers.