Fun for the Whole Community!
A Proud Part of Astoria's Rich History
---
From USO shows during WWII, performances by Bob Hope and Jack Benny, and a speech by Vice-President Richard Nixon, to rock concerts with legends like Deep Purple, The Zombies, and Buffalo Springfield in the 60s, The Armory continues to be an Astoria treasure!
Learn more
Armory Gift Cards
Give the gift of FUN! Astoria Armory Gift Cards can be used for Shanghaied Roller Dolls tickets, concerts, and other events. Click here for more information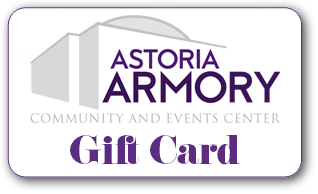 Community Programs
We offer many fun ways to be a part of this great community!
Armory News
Upcoming highlighted events, news, and articles about the Astoria Armory.